This summer, we have welcomed 3 new interns here at The 20!
Alexis, Courtney and Jakob have been a great addition to our team. Here's a little more about them: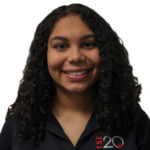 Alexis Williams
Marketing Intern
Major: Digital Retailing and Fashion Merchandising
Minor: Consumer Experience Management
Classification: Senior at the University of North Texas
Describe Yourself: Goofy, Considerate, and Observant
Career Path: Digital Retailing wasn't my initial choice when it came to deciding on a major. I have always had a passion for fashion, but I realized my skill set was better fit for the digital world.  I enjoy creating ideas to promote or increase traction within businesses. I am mostly interested in social media marketing, but I am excited to explore all aspects of Digital Marketing.
Courtney Ford
Graphic Design Intern
Major: Graphic Design
Classification: Senior at Texas Women's University
Describe Yourself: Curious, Easy-Going, and Reliable
Career Path: I chose to major in graphic design because I was a page designer/editor for my high school newspaper, so that really made me fall in love with designing. I am also a sucker for great product packaging. This internship is great because it allows me to create real collateral for The 20 as well as other companies. I really enjoy making something that people will be able to use, whether for business or just for a laugh on social media. This internship is really helping me understand what goes into the day-to-day life of a designer.
Jakob Field
Sales Intern
Major: Marketing
Minor: Business Management
Classification: Senior at the University of Oklahoma
Describe Yourself: Funny, Laid back, and Practical
Career Path: I've always been fascinated by marketing and the dramatic impact it can have on consumer's choices. The duality of marketing with the vastly different analytical and creatives sides has always seemed like a perfect fit because I have such a strong interest in both. Also, the psychology behind why certain tactics work in certain situations and how to best implement those has always interested me. This Sales Internship with The 20 has given me the opportunity to explore the numerous similarities between marketing and sales and has allowed me to gain real world experience and learn from talented people.
If you happened to miss our blog about the five reasons one should intern in college, written by our very own Talent Acquisition Manager, Camden Rendon — be sure to check it out!
Interested in joining the team? Check out our Careers page for all current openings!